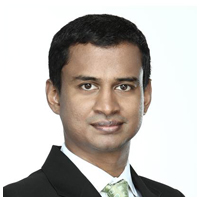 Praveen Raju (Co-Chair)
Mr Praveen Raju:
Founder, Suchitra Academy
With 7 indoor courts, 25m pool and state of the art fitness Center, Suchitra provides an integrated facility where India's Top players like PV Sindhu, World Champion and Olympic silver medallist and Kidambi Srikant have been trained. Praveen also served as the Executive Director of Indus International School, Hyderabad (Top 10 International Schools in India), and was the Chairman of Indus Early Learning Centre, a Pre-School in Jubilee Hills (Ranked Hyderabad's #1 Pre-School). Praveen has been the Vice President of The Indus Entrepreneurs (TIE), Hyderabad Chapter.