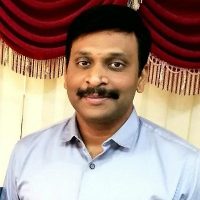 Mr Sreekanth Babu Koganti
State Chairman, Andhra Pradesh
An alumnus of the University of South Florida (where he pursued an M.S. in Engineering), Bapatla Engineering College (where he earned a B.Tech degree), and Sainik School Korukonda (where he studied from VI to XII), Mr. Sreekanth took over the responsibility of leading the Kennedy School (a K-10 school in Andhra Pradesh established by his parents in 1981) as the Director in May 2002. He has also established two premium primary schools – Next Gen Kids and two world-class schools – Next Gen International Schools – one in 2015 at Ongole in a 12-acre greenfield setup with state-of-the-art infrastructure & activities including Equestrian Sports, Obstacle & Mountaineering, Swimming, Skating, Rifle Shooting, etc., and another in 2019 at Guntur with more futuristic education spaces & a unique Indoor Sports Complex that houses a 25mtr Swimming Pool, Wooden Shuttle & Squash Courts, Fitness Centre, 8 Lane Rifle Shooting Range, Aerobics & Yoga Hall, Chess, Carroms & Table Tennis. Both Kennedy and NextGen schools have been awarded and ranked regularly by Education World, Education Today, BrainFeed, Digital Learning, and numerous magazines and organizations, including the British Council's International School Award. Mr. Sreekanth has been an executive member and is actively involved in various school management associations and a couple of educational societies. He has also worked as a Teaching Assistant at USF, Tampa.