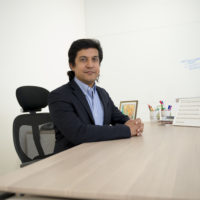 Manit Jain (Chairman)
Manit championed the cause of experiential learning launching it successfully in the mainstream environment in the country. Co-founder and Director of The Heritage Group of Schools which has consistently ranked amongst the top 10 schools in India for the past 3 years, Manit also features amongst the 22 Extraordinary Education Innovators (EW April 2015 issue) for transforming schools into activity hubs where students and teachers learn-teach through hands-on experiences and real-life projects.
An empathetic change-maker with a robust investment of practice and perfection in education, Manit continues to found new ventures like 'I am a Teacher', a Post graduate diploma in learning and teaching that is changing the paradigm of Teaching in India.