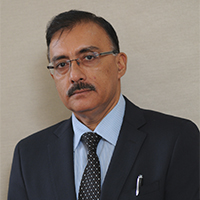 Deepak Madhok (Treasurer)
Chairman, Sunbeam Group of Educational Institutions
Chairman & Managing Director, Sunbeam Eduserve Ltd.
Chairman and MD of Sunbeam Eduserve and Chairman Sunbeam Group of Educational Institutions. Mr. Deepak Madhok is the most respected educationist in this part of the world whose vision of what qualitative education should be in today's age and time has been instrumental in Sunbeam Schools being ranked No 1 school in India on the parameter 'Value for Money'. Mr. Madhok has been honored with DOCTORATE DEGREE of Literature by "Indian Peace university Chennai" for outstanding contribution in the field of Education & Nurturing young minds pan India for last four decades. He is also a leading light of various educational organization and heads Purvanchal Schools Association and VSA. His views on education, infrastructure and developments are sought after and respected in the corridor of governance. He has been applauded and acknowledged with several honors and awards. The Rajiv Gandhi National Award for education being one of them.
A visionary who has travelled the world, Mr. Madhok firmly believes that success is a journey not a destination and thus rolls the Sunbeam revolution.