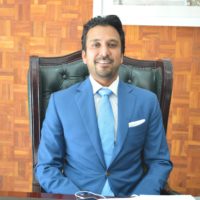 Anirudh Khaitan (Co-Chair)
A Passionate and a highly motivated individual who has been able to develop successful, and effective systems, strategies and solutions that have resulted in tremendous growth and profitability of all companies he has been associated with. A Serial Entrepreneur who has, entered into the Insurance, Education, Health, Wellness and Beauty Industry in a short span.
In the year 2003, he set up a society for running schools by the name of Khaitan Education Centre, whose prime objective was to run K-12 schools across India. The First School was started in Ghaziabad by the name of Khaitan Public School, which boasts of having more than 3,500 students today.