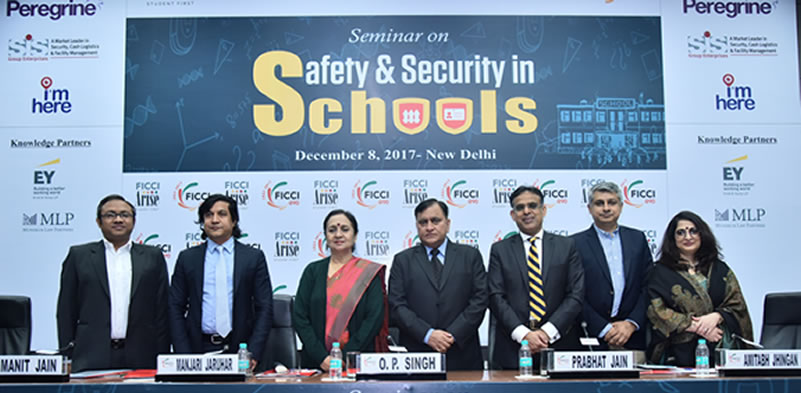 Seminar on Safety and Security in Schools
FICCI organized a seminar on "Safety and Security in Schools" with an objective to address different aspects of safety of children at schools in India underlining necessity for a holistic approach.
The conference was attended by key dignitaries and eminent speakers including the Mr. O. P. Singh, IPS, Director General, CISF, New Delhi, Mr. Rakshit Tandon, Consultant, Internet and Mobile Association of India, Mr. Vinay Pratap Singh, Deputy Commissioner, Gurugram, Ms. Sunetra Choudhury, Political Editor and Anchor, NDTV etc
The conference entailed several high-quality sessions that witnessed thought provoking presentations on personal and professional experiences, case studies and examples of best practices in the area of safety and security of students. It was suggested that the issue is matter of concern beyond the four walls of a school and requires a comprehensive analysis of the causes of instances of deviation. There was emphasis on the need to keep the 'child' at the centre, keeping in view their social and emotional needs and also at the same time charting out a plan that is feasible to implement.
More than 300 delegates comprising of School Management, Security consultants, Security solutions providers, Law enforcement agencies multilateral and bilateral agencies, state and central government officials important to this dialogue participated at the conference.
On the occasion, FICCI along with EY and Mundkur Law Partners also presented a framework of the proposed study, "Student Safety in K-12 schools: a Report, Primer and Toolkit". The proposed study seeks to cover various dimensions of safety which all schools can used as a ready reckoner to map their risks and plan ahead.