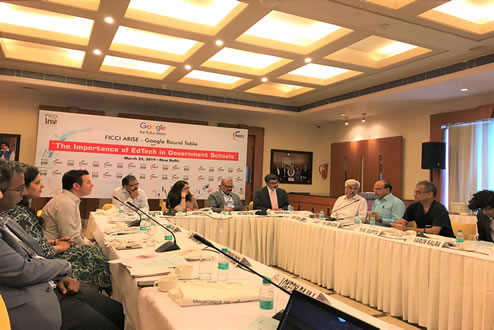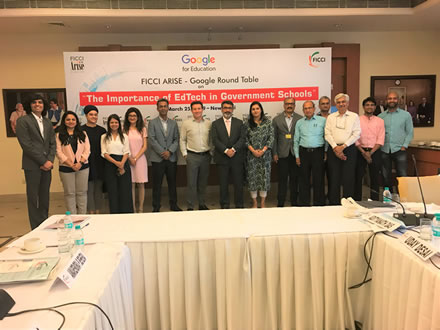 FICCI ARISE – Google Round Table on "Importance of EdTech in Government Schools (25th March 2019)
With 1.5 million schools, 8.7 million school teachers, 260 million students in schools, about 800 universities, 41,000 colleges, and about 30 million students in higher education, India has one of the largest education systems in the world. Enrolment in India's primary schools is now above 96 percent, but learning outcomes need significant improvement — in 2016, a quarter of all children in standard VIII in rural India were unable to read a standard II–level text. India needs to improve learning outcomes across all schools and higher education institutions, in both the public and private systems, in rural as well as urban areas, as a critical national priority.
EdTech provides a powerful opportunity to bridge the gap in access and, equally importantly, to improve learning outcomes significantly. Personalized, adaptive and interactive content that is tailored for individual students can improve retention and learning outcomes by making instruction more effective.
To contribute to this agenda, FICCI ARISE joined hands with Google for a series of multi-stakeholder dialogues. The inaugural Round Table on "The Importance of EdTech in Government Schools" was organized on 25th March 2019, at FICCI Federation House, New Delhi.
This round table was a part of an initiative that holds a long-term vision of enabling a positive policy environment that encourages collaborative learning in the education sector. The discussions were governed by the following objectives:
* Increase reach of education to a much larger segment of society, who would otherwise remain deprived
* Create avenues for providing 24x7 easy and flexible access to learning
* Provide content and learning to enable uniformity of knowledge
* Enhance learning outcomes of students by significantly reducing the cost of education
* Empower teachers to meet day to day challenges through meaningful and practical use of technology
The dialogues explored diverse perspectives and various strategies adopted by key stakeholders, in promoting a balanced approach to addressing challenges relating to education technology in schools. That is, to help children and teachers leverage the many benefits of technology in education.
Some of the eminent dignitaries who joined this Round Table were Mr Adityanath Das, Principal, Secretary, School Education, Government of Andhra Pradesh; Mr R.P. Gupta, Director, Education NDMC; Dr. Amarendra Behera, Joint Director, CIET-NCERT; Mr R.K. Bahuguna, Advisor, ICT, Gurgaon Metropolitan Development Authority; Mr Uday Desai, Advisor, Gujarat Institute of Education Technology; Mr Rakesh Kaul, Leader – Govt. & Public Sector, PwC; Mr Colin Marson, Head of Education, APAC, Google Cloud.