Child Safety and Security in K-12 Schools- A Report, Toolkit and Primer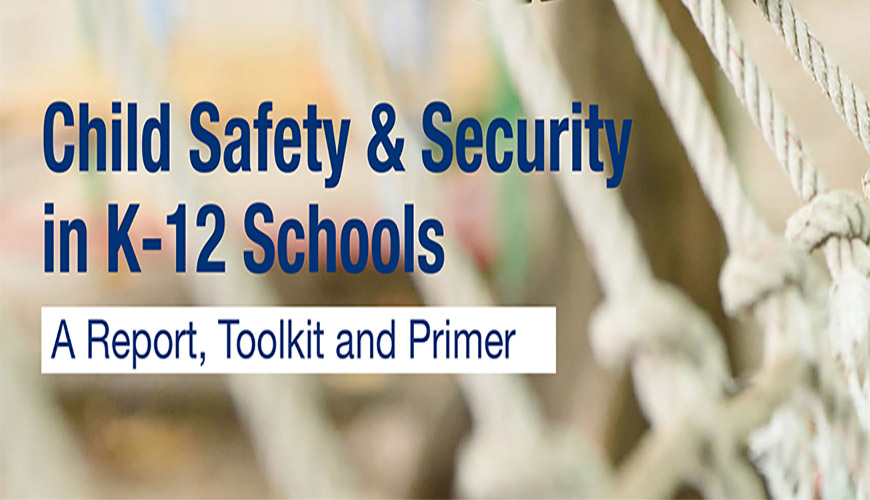 Recent unfortunate incidents in schools have brought to focus the important issue of child safety in schools. Unfortunately these events have also led to knee jerk reactions from various authorities and a public test by the media. We need to look at the entire issue holistically. It is a fact that wherever there are human beings, some incidents are bound to happen. It is important to determine whether such incident has happened due to any negligence of the school or not. Furthermore, in incidents where victim is an innocent child, it is of utmost important for all stakeholders, be it the school, parents, community, authorities or the media to maintain caution and sensitivity. The race of being 'first to report' mostly leads to distorted facts and unwarranted sensationalisation. This might earn TRP's but it also leaves a permanent scar in a child's psyche. Laws around safety such as POCSO, JJA and POSH etc. have been enacted by the legislature. Further there are multiple guidelines and checklists around child safety in schools issued by several authorities at central and state levels from time to time. Often newer regulations or guidelines are issued without having reference to previous ones. More often than that they overlap or contradict with each other due to lack of a consolidated child protection framework.
FICCI ARISE in collaboration with Mundkur Law Partners (MLP) has studied various legislations, guidelines and checklists issued by various authorities, tested them in real ground situation and has come out with a comprehensive manual and toolkit for child safety in schools. It is a consolidated manual in tunes with today's times as it strives to cover all kind of threats, physical, emotional, digital etc. There cannot be a one-size-fits-all solution as schools vary greatly in terms of their setting and access to resources. Yet one cannot discriminate safety of any child. The study and recommendations are holistic in nature. The manual lays down the basic minimum standard safety norms that should be 'mandatorily' applicable to all genre of schools. Further it also provides a set of 'recommendatory' items that schools can adopt as add ons. With our true commitment to the motto 'Student First,' we are certain that schools and authorities alike would find this manual and checklist wholesome, useful and feasible to implement in the best interest of our school children.