LIBERALIZATION of India's Private Schools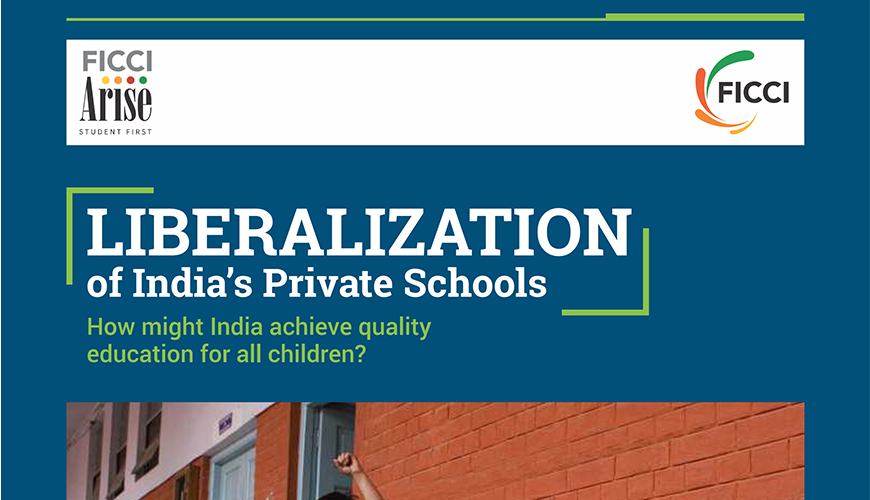 India's development trajectory is critically linked to the investments in social infrastructure and our march towards attaining Sustainable Development Goals is firmly anchored in investing in human capital and inclusive growth.
Early Childhood Education, K-12 and Higher Education systems as engines of economic growth and social development have taken on new importance in the 'global knowledge society.' The world's leading nations are placing big bets on education investments, wagering that highly educated populaces will be needed to perform tomorrow's jobs, drive healthy economies and generate enough tax receipts to support governments. Countries such as Finland, Singapore, USA, China, Japan, South Korea, amongst others, have had the foresight to make huge investments in R&D and innovation in education.
As against any major country across the world where the percentage of students attending unaided independent schools barely reaches the double digit, nearly 50 per cent of Indian children study in private schools. Their rise is an important, and often, unheard story about our education system. Typically perceived as 'elite', the growth in the private sector has actually been powered by a wave of low-and middle-income families seeking better education for their children. Nothing illustrates this better than the fact that of these private school enrolments, 70% of the students study in private schools that charge less than INR 1000 per month, as against Government schools spend of about INR 30,000 per child per annum. While the number and spread of independent schools has grown multifold, regulations that were originally framed to govern government schools continue to regulate independent schools too. This acts as a hindrance for quality players to enter the sector.
The National Education Policy (NEP) 2020 appears to be a genuine reformative step in the right direction and conveys a sharp bias for action, however it's success is contingent on its implementation. There are countless examples of progressive policies being misinterpreted and distorted at the ground level resulting in an excess of litigation in all realms of education. The fundamental reason for this is a lack of clarity in distinguishing between the government's role in education as being that of a 'policymaker,' 'regulator,' 'funder' or 'operator.' While there is a rightful attempt in the policy to clear the regulatory maze created by several overlapping bodies, more is required.
As per UNDP estimates, the total financial requirement for India to reach SDG 4 by 2030 averages $173 billion per year, far exceeding the current government budget of $76.4 billion a year for education. It's obvious that the government won't be able to shore up investments to the required levels and would need significant private participation. With the current regulatory structure and obsession with keeping it ostensibly clean through not for profit mechanisms, we're ensuring our students are deprived of quality education. If we need investments, we need to incentivise investors. How can we expect institutions to invest Rs 100 crore in setting up schools and not expect a return on their capital?
Reforms do not mean a freehand. Education reforms will have to come in with safeguard to ensure quality is maintained and the parents are protected. A case in point is the Visionary Uttar Pradesh Self-Financed Independent Fee Regulation Act (2018). The parent community is protected with fee mechanisms in place and the investors' surpluses has been capped, giving enough room to ensure investment flows in the sector.
There are several regulatory challenges that are restraining the private sector from delivering higher and more accessible quality, similar to how India's economy was delivering inadequate services and products before 1991. Post the 1991 liberalization, most of our sectors have caught up with the world's best, barring a few, such as the private education sector. Despite all the regulations and the philanthropic mandate, private schooling is nearly at a $100 bn size, having grown at about 15% CAGR over the last decade. Given the size of this market, rationalizing regulations and removing the philanthropic mandate could push the growth up to 25% CAGR, pushing the sector to nearly $200 bn by 2025.
Transparent structures such as regular body corporates with strictly defined disclosure norms should be allowed for setting up and operating schools as is allowed in the states of Uttar Pradesh and Haryana. At a 20% profitability margin, and a 25% net tax rate, taxes from the sector can amount to a significant sum of $10 Billion, all of which can be ploughed back into education. This shall promote social entrepreneurship, create competition and raise levels of quality and affordability.
Through this report we aim to bring forth some pertinent facts about private sector contribution in improving access and quality in school education and suggest structural reforms that shall pave the way for realising the goals set in the NEP – that offers a number of well-reasoned and bold reformative steps in the right direction for disruptive change to meet the future learning needs.
Failure to innovate, repeating yesterday's educational programs and strategies tomorrow, will only further jeopardize education's reputation as a contributor to development efforts. Private sector is truly aligned with Government's vision of transforming India as a hub for 'skilled Human Resource'. However, to realise this vision government should consider creating an enabling policy environment for the private players, where they are seen as 'meaningful contributor' to the national building. If measures are not taken on time, it may also swiftly shift India's 'Demographic Dividend' to a 'Demographic Disaster.'